Deleting Pictures
Follow the steps below to delete pictures from memory cards. Note that pictures cannot be recovered once deleted. Pictures that are protected, however, cannot be deleted.
Using the Delete Button
Press the O (Q) button to delete the current picture.
Select the desired picture with the multi selector and press the O (Q) button.

A confirmation dialog will be displayed.
To exit without deleting the picture, press

K

.

Press O (Q) again.

The picture will be deleted.
If the picture selected in the playback display when the O (Q) button is pressed was recorded with two memory cards inserted and an option other than [Overflow] selected for [Secondary slot function], you will be prompted to choose whether to delete both copies or only the copy on the card in the current slot (0 Secondary Slot Function).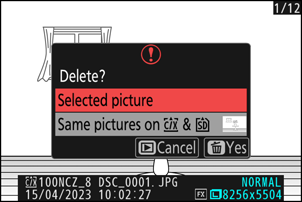 Deleting Multiple Pictures
Use [Delete] in the playback menu to delete multiple pictures at once. Note that depending on the number of pictures, some time may be required for deletion.
Option
Description

Q

[Selected pictures]
Delete selected pictures.

d

[Candidates for deletion]
Delete pictures rated

d

(candidate for deletion).

i

[Pictures shot on selected dates]
Delete all pictures taken on selected dates.

R

[All pictures]

Delete all pictures in the folder currently selected for [Playback folder] in the playback menu.

If two memory cards are inserted, you can select the card from which pictures will be deleted.
---