Distortion Control
Create copies with reduced peripheral distortion, reducing barrel distortion in pictures taken with wide-angle lenses or pincushion distortion in pictures taken with telephoto lenses.
If the camera detects distortion, it will offer a choice of [Auto] and [Manual]. Select [Auto] to let the camera correct distortion automatically.
If the camera is unable to detect distortion, the only option available will be [Manual]. Select [Manual] to reduce distortion manually.
Note that [Manual] must be used with copies created using the [Auto] option and with photos taken using the [Auto distortion control] option in the photo shooting menu.
When [Manual] is selected, the effect can be previewed in the display. To view the unedited picture, press and hold the DISP button.
Press

1

to reduce pin-cushion distortion,

3

to reduce barrel distortion. Press

J

to save changes and return to the previous display.
Press

J

to save the retouched copy.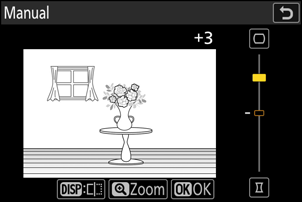 Note that greater amounts of distortion control result in more of the edges being cropped out.
---