Inserting Memory Cards
The camera is equipped with two memory card slots: a slot that takes one CFexpress or XQD memory card (q) and another that takes one SD memory card (w), for a total of two cards, one of each type.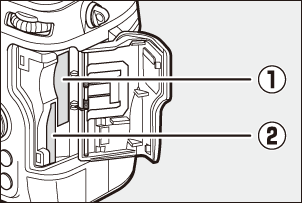 Turn the camera off before inserting or removing memory cards.

Holding the memory card in the orientation shown, slide it straight into the slot until it clicks into place.

CFexpress and XQD memory cards:

SD memory cards:

If this is the first time the card will be used in the camera, format it using [Format memory card] in the setup menu.
The shooting display and control panel show the number of photographs that can be taken at current settings.
Values over 1000 are rounded down to the nearest hundred. For example, values between 8000 and 8099 are shown as 8.0 k.
If no memory cards are inserted, an [–E–] indicator will be displayed.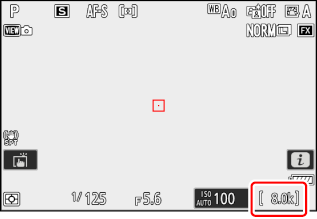 SD memory cards are equipped with a write-protect switch. Sliding the switch to the "lock" position write-protects the card, protecting the data it contains.

A "– – –" indicator and a [Card] warning appear in the shooting display when a write-protected card is inserted.
If you attempt to release the shutter while a write-protected card is inserted, a warning will be displayed and no picture will be recorded. Unlock the memory card before attempting to take or delete pictures.
Removing Memory Cards
After confirming that the memory card access lamp is off, turn the camera off, open the memory card slot cover, and press the card in to eject it (q). The card can then be removed by hand (w).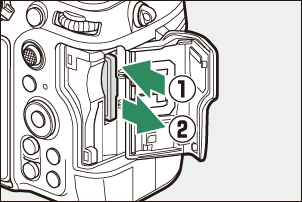 ---