Format Memory Card
G button U B setup menu
Format memory cards. Memory cards that have been formatted in a computer or another camera should be reformatted using this option before use. To begin formatting, choose a memory card slot and select [Yes]. Note that formatting permanently deletes all pictures and other data on the card. Before formatting, be sure to make backup copies as required.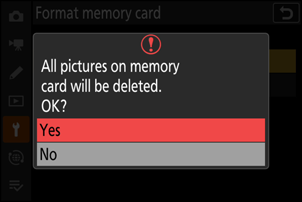 Do not turn the camera off or remove memory cards until the message [Formatting memory card.] clears from the display.
Keeping both format (O/Q and S/Q) buttons pressed for over two seconds displays a dialog prompting you to select a card for formatting.
"Yes (Full Format)"
When formatting compatible CFexpress memory cards, instead of a simple [Yes] you will be presented with [Yes (full format)] and [Yes (quick format)] options after selecting the memory card slot.
Select [Yes (full format)] to perform a full format, deleting data from all areas of the card. This option is recommended for users who wish to ensure that all data are deleted or who feel that the speed at which the camera reads from and writes to the card has slowed and wish to improve data transfer speeds.
To format the card using the existing format method, select [Yes (quick format)].
"Quick Format" Versus "Full Format"
A quick format overwrites only the file system information, leaving the actual file data intact. In contrast, performing a full format on a CFexpress memory card deletes all data. We recommend fully-formatting CFexpress memory cards prior to disposal or transfer of ownership.
---