The MENU Button
Press the G button to view the menus.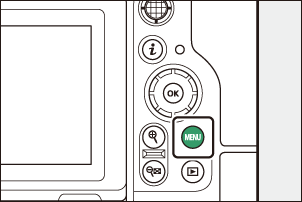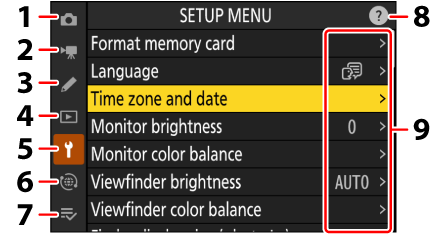 You can choose the menu displayed. The default is [MY MENU]. 
Using the Menus
You can navigate the menus using the multi selector and J button.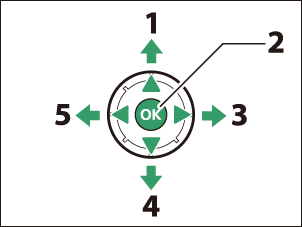 Move cursor up
Select the highlighted item
Display sub-menu, select highlighted item, or move cursor right
Move cursor down
Cancel and return to previous menu, or move cursor left
Highlight the icon for the current menu.

Press 4 to place the cursor in the menu-selection area.

Select a menu.

Press 1 or 3 to select the desired menu.

Position the cursor in the selected menu.

Press 2 to position the cursor in the selected menu.

Highlight a menu item.

Press 1 or 3 to highlight a menu item.

Display options.

Press 2 to display options for the selected menu item.

Highlight an option.

Press 1 or 3 to highlight an option.

Select the highlighted option.

Press

J

to save changes and exit.
To exit without making a selection, press the

G

button.
To exit the menus and return to shooting mode, press the shutter-release button halfway.
Some items and menu options may be unavailable depending on camera status. Unavailable items are displayed in gray.

In some cases, pressing J when a grayed-out item is highlighted will display a message explaining why the item is unavailable.
If the only options available for the current item are [ON] and [OFF], you can switch from [ON] to [OFF] or vice versa simply by pressing J, pressing the multi selector right (2), or tapping the item in the display.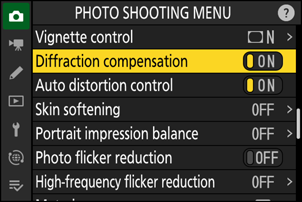 Where available, a description of the currently-selected item can be viewed by pressing the

W

(

Q

) button.
Press

1

or

3

to scroll.
Press

W

(

Q

) again to return to the menus.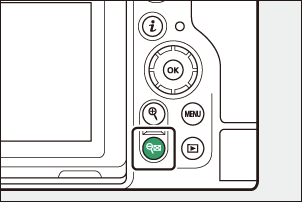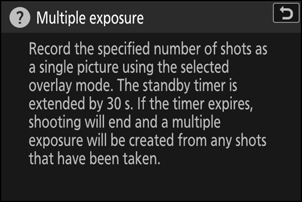 You can also navigate the menus using touch controls (0Touch Controls).
A keyboard is displayed when text entry is required, for example if you are called on to enter a file name or the like. Enter text as described below.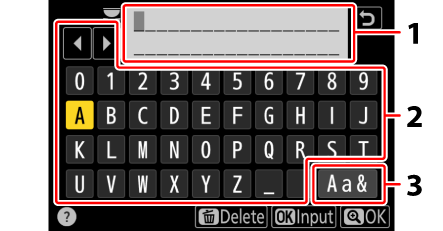 Text display area
Keyboard area
Keyboard selection
Enter characters at the current cursor position by highlighting them with the multi selector arrow keys and then pressing

J

.
The cursor can be moved left or right in the text display area by rotating either of the command dials.
To cycle through the upper- and lower-case and symbol keyboards, highlight the keyboard selection icon and press

J

. The keyboard selection icon may not be available in some cases.
If a character is entered when the text display area is full, the rightmost character will be deleted.
To delete the character under the cursor, press the

O

(

Q

) button.
To complete entry, press

X

.
To exit without completing text entry, press

G

.
---