Features Available with "C" Firmware Version 1.10
Features Available with "C" Firmware Version 1.10
The new features available with camera "C" firmware version 1.10 are described below.
Saving the Focus Position
A [Save focus position] option has been added to the setup menu. If [On] is selected, the focus position in effect when the camera is turned off will be restored when the camera is next turned on.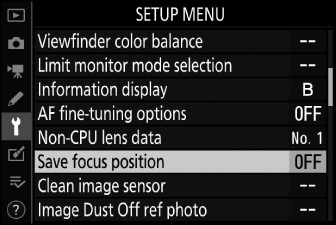 The focus position may change with adjustments to zoom or fluctuations in ambient temperature.

This option applies only when the camera is used with Z mount autofocus lenses.

Selecting [On] may increase camera startup times.
---