Download Center
Slide Show
View a slide show of the pictures in the current playback folder (0 Playback Folder).
Option
Description
Start
Start slide show.
Image type
Choose the type of image displayed from Still images and movies, Still images only, and Movies only, or select By rating to view only pictures with selected ratings (highlight ratings and press

2

to select or deselect).
Frame interval
Choose how long each picture will be displayed.
To start the slide show, highlight Start and press J. The following operations can be performed while the show is in progress: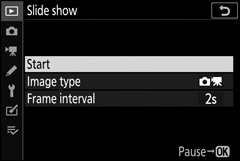 Skip back/skip ahead: Press

4

to return to the previous frame,

2

to skip to the next frame.
View additional photo info: Press

1

or

3

to change or hide the photo info displayed (still images only).
Pause: Press

J

to pause the slide show. To restart, highlight Restart and press

J

.
Adjust volume: Tap

X

during movie playback to increase the volume,

W

to decrease.
Exit to the playback menu: Press

G

to end the slide show and return to the playback menu.
Exit to playback mode: Press

K

to end the slide show and exit to playback mode.
Exit to shooting mode: Press the shutter-release button halfway to return to shooting mode.
A dialog is displayed when the show ends. Select Restart to restart or Exit to return to the playback menu.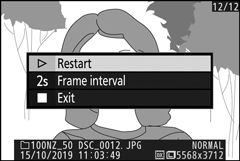 ---