Download Center
Connecting to Networks Using the WT-7
Connecting to Networks Using the WT-7
The WT-7
When attached to the camera, the optional WT-7 wireless transmitter can be used to connect to computers, ftp servers, or other devices over Ethernet or wireless networks.
Before Connecting the WT-7
Before connecting the WT-7, confirm that the firmware for the camera and WT-7 have been updated to the latest versions.

For more information, visit the Nikon website for your region (Life‑Long Learning).
What the WT-7 Can Do for You
Upload existing photos and movies to an ftp server or computer
Not only can you copy pictures to computers (image transfer mode), you can also upload them to ftp servers (ftp upload mode). Pictures can be uploaded as they are taken.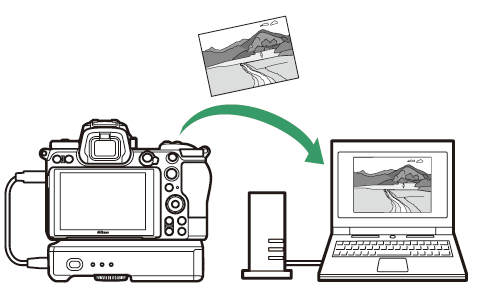 Control the camera and take pictures remotely from a computer
Installing Camera Control Pro 2 (available separately) on a network computer gives you complete control over camera settings and lets you take pictures remotely and save them directly to the computer hard disk (camera control mode).
Control the camera and take pictures remotely from a web browser
Using a web browser, you can control the camera from network computers and smart devices for remote control that requires no dedicated app or computer software (http server mode).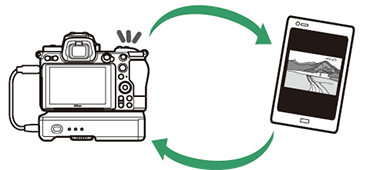 Connecting Using the WT-7
Connect the WT-7 using the USB cable supplied with the camera.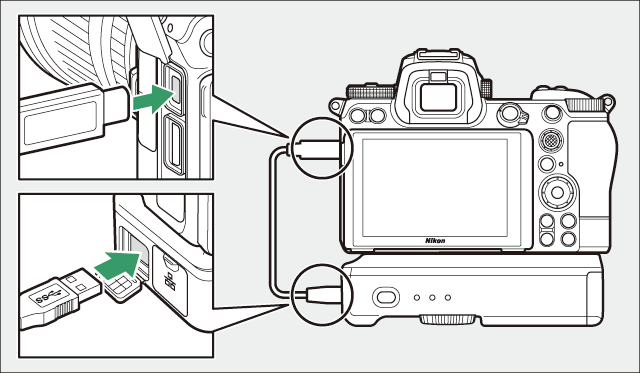 Turn the transmitter on and select [Wireless transmitter (WT-7)] > [Wireless transmitter] > [Use] in the camera setup menu.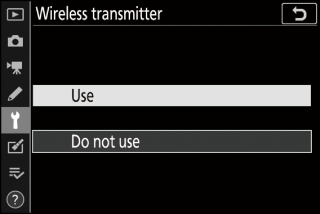 For information on connecting to networks using a WT-7 wireless transmitter, see the manual supplied with the WT-7.
All menu options for the WT-7 can be found in the setup menu under [Wireless transmitter (WT-7)]. For more information, see the manual provided with the WT-7.
---