Download Center
Flash Cntrl for Built-in Flash/Optional Flash
Choose the flash mode for the built-in flash in P, S, A, and M modes. When an optional SB-500, SB-400, or SB-300 flash unit is attached and turned on, this option changes to Optional flash and is used to choose the flash mode for the optional flash unit (0 Compatible Flash Units).
Option
Description
1
TTL
Flash output is adjusted automatically in response to shooting conditions.
2
Manual
Choose a flash level. At full power, the built-in flash has a Guide Number of approximately 8/26 (m/ft., ISO 100, 20 °C/68 °F).
Manual
A Y icon flashes in the viewfinder and 0 appears in the information display when Manual is selected and the flash is raised.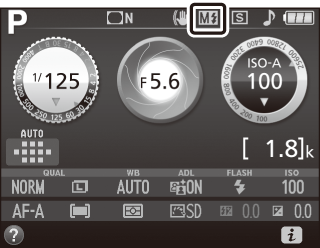 TTL Flash Control
The following types of flash control are supported when a type E or G lens is used in combination with the built-in flash (0 Using the Built-in Flash) or optional flash units (0 Compatible Flash Units).
i-TTL Balanced Fill-Flash for Digital SLR: Information from the 420-pixel RGB sensor is used to adjust flash output for a natural balance between the main subject and the background.
Standard i-TTL Fill-Flash for Digital SLR: Flash output is adjusted for the main subject; the brightness of the background is not taken into account.
Standard i-TTL flash control is used with spot metering or when selected with the optional flash unit. i-TTL balanced fill-flash for digital SLR is used in all other cases.