Download Center
AF-P DX NIKKOR 18–55mm f/3.5–5.6G VR Lenses
AF-P DX NIKKOR 18–55mm f/3.5–5.6G VR Lenses
Read this section if you purchased the camera with the AF-P DX NIKKOR 18–55mm f/3.5–5.6G VR lens kit available in some countries or regions. The parts of the lens are listed below.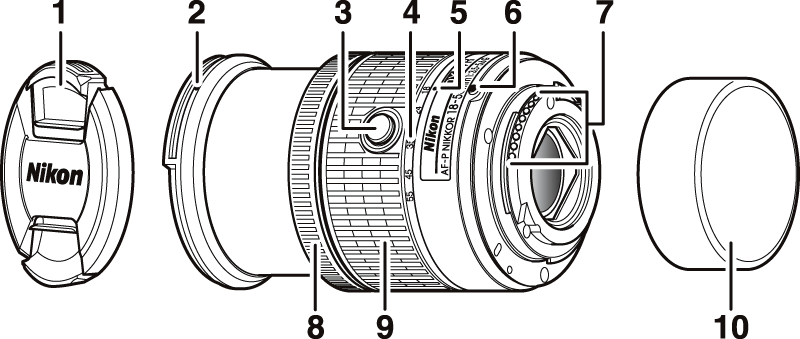 | | |
| --- | --- |
| 1 | Lens cap |
| 2 | Lens hood mounting mark |
| 3 | Retractable lens barrel button |
| 4 | Focal length scale |
| 5 | Focal length mark |
| | |
| --- | --- |
| 6 | Lens mounting mark |
| 7 | CPU contacts |
| 8 | Focus ring |
| 9 | Zoom ring |
| 10 | Rear lens cap |
This retractable lens is for use exclusively with DX format Nikon digital SLR cameras; SLR film cameras and D3-series, D2-series, D1-series, D700, D300-series, D200, D100, D90, D80, D70-series, D60, D50, D40-series, D7000, D5100, D5000, D3200, D3100, D3000 digital SLR cameras are not supported. When using it with a D5, D4-series, D810-series, D800-series, Df, D750, D610, D600, D7200, D7100, D5500, D5300, or D3300, be sure the camera firmware has been updated to the latest version.
Focus
The focus mode can be selected using camera controls (0 Focus Mode).
Autofocus
Focus is adjusted automatically when the camera is in autofocus mode (0 Focus Mode). The focus ring can also be used to focus the camera if the shutter-release button is kept pressed halfway (or if the AF-ON button is kept pressed); this is known as "autofocus with manual override" (M/A). Autofocus will resume when the shutter-release button is pressed halfway (or the AF-ON button is pressed) a second time. Note that touching the focus ring while autofocus is in effect will change the focus position.
Manual Focus
When the camera is in manual focus mode, focus can be adjusted by rotating the lens focus ring (0 Manual Focus). When the camera is off or the standby timer has expired, the focus ring cannot be used to focus and rotating the zoom ring will change the focus position; before focusing, turn the camera on or press the shutter-release button to reactivate the standby timer.
Users of D5200 cameras should note that if the standby timer is allowed to expire, the focus position will change when the timer is restarted. Refocus before shooting. Longer standby times are recommended for manual focus and in other situations in which you may not release the shutter immediately after focusing.
Using the Built-in Flash
When using the built-in flash, be sure the subject is at a range of at least 0.6 m (2 ft) and remove lens hoods to prevent vignetting (shadows created where the end of the lens obscures the built-in flash).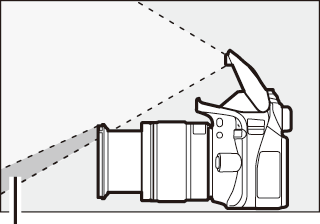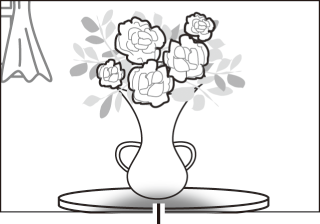 When the lens is mounted on the following cameras, the built-in flash may be unable to light the entire subject at ranges less than those given below:
Camera
Zoom position
Minimum distance without vignetting
D5600/D5500/
D5300/D5200/
D3500/D3400/
D3300
18 mm
1.0 m/3 ft 4 in.
24, 35, 45, and 55 mm
No vignetting
Vibration Reduction (VR)
When an AF-P DX NIKKOR 18–55mm f/3.5–5.6G VR is mounted on the camera, vibration reduction can be enabled or disabled using the Optical VR option in the shooting menu (0 Optical VR). If On is selected, vibration reduction will take effect whenever the shutter-release button is pressed halfway. Vibration reduction reduces blur caused by camera shake, allowing shutter speeds up to 4.0 stops slower than would otherwise be the case, increasing the range of shutter speeds available. The effects of VR on shutter speed are measured according to Camera and Imaging Products Association (CIPA) standards; FX-format lenses are measured using FX-format digital SLR cameras, DX-format lenses using DX-format cameras. Zoom lenses are measured at maximum zoom.
Vibration Reduction
When using vibration reduction, press the shutter-release button halfway and wait for the image in the viewfinder to stabilize before pressing the shutter-release button the rest of the way down.
When vibration reduction is active, the image in the viewfinder may jiggle after the shutter is released. This does not indicate a malfunction.
When the camera is panned, vibration reduction applies only to motion that is not part of the pan (if the camera is panned horizontally, for example, vibration reduction will be applied only to vertical shake), making it much easier to pan the camera smoothly in a wide arc.
If the camera is equipped with a built-in flash, vibration reduction will be disabled while the flash charges.
Vibration reduction is generally recommended when the camera is mounted on a tripod, although you may prefer to turn it off depending on shooting conditions and the type of tripod.
Vibration reduction is recommended when the camera is mounted on a monopod.
Supplied Accessories
LC-55A 55 mm Snap-on Front Lens Cap
Rear Lens Cap
Compatible Accessories
55 mm screw-on filters
LF-4 Rear Lens Cap
CL-0815 Lens Case

HB-N106 Bayonet Hood

Align the lens hood mounting mark (●) with the lens hood alignment mark () as shown in Figure q and then rotate the hood (w) until the ● mark is aligned with the lens hood lock mark (—○).

When attaching or removing the hood, hold it near the symbol on its base and avoid gripping it too tightly. Vignetting may occur if the hood is not correctly attached. The hood can be reversed and mounted on the lens when not in use.
Specifications
Type
Type G AF-P DX lens with built-in CPU and F mount
Focal length
18–55 mm
Maximum aperture
f/3.5–5.6
Lens construction
12 elements in 9 groups (2 aspherical lens elements)
Angle of view
76° – 28° 50´
Focal length scale
Graduated in millimeters (18, 24, 35, 45, 55)
Distance information
Output to camera
Zoom
Manual zoom using independent zoom ring
Focusing
Autofocus controlled by stepping motor; separate focus ring for manual focus
Vibration reduction
Lens shift using voice coil motors (VCMs)
Minimum focus distance
0.25 m (0.9 ft) from focal plane (

0

Focal Plane Position) at all zoom positions
Diaphragm blades
7 (rounded diaphragm opening)
Diaphragm
Fully automatic
Aperture range

18 mm focal length: f/3.5–22
55 mm focal length: f/5.6–38

The minimum aperture displayed may vary depending on the size of the exposure increment selected with the camera.

Metering
Full aperture
Filter-attachment size
55 mm (P = 0.75 mm)
Dimensions
Approx. 64.5 mm maximum diameter × 62.5 mm (distance from camera lens mount flange when lens is retracted)
Weight
Approx. 205 g (7.3 oz)
Nikon reserves the right to change the appearance and specifications of the hardware and software described in this manual at any time and without prior notice. Nikon will not be held liable for damages that may result from any mistakes that this manual may contain.