Download Center
Inserting Memory Cards
Inserting Memory Cards
The camera is equipped with two memory card slots (Slots 1 and 2), allowing simultaneous use of two memory cards.
Turn the camera off before inserting or removing memory cards.

Holding the memory card in the orientation shown, slide it straight into the slot until it clicks into place.
Number of Exposures Remaining
The shooting display and control panel show the number of photographs that can be taken at current settings.

Values over 1000 are rounded down to the nearest hundred. For example, values between 8000 and 8099 are shown as 8.0 k.

If no memory cards are inserted, an [–E–] indicator will be displayed.
Removing Memory Cards
After confirming that the memory card access lamp is off, turn the camera off, open the memory card slot cover, and press the card in to eject it (q). The card can then be removed by hand (w).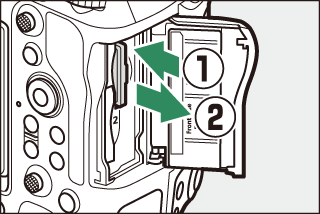 Memory Card High-Temperature Warning
As indicated on the inside of the memory card slot cover, memory cards inserted in the camera may become hot. Do not attempt to remove memory cards if a high-temperature warning appears in the shooting display; instead, wait for the camera to cool and the warning to clear from the display.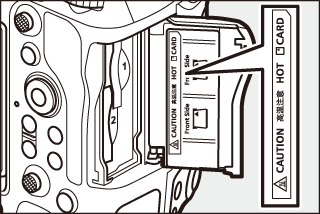 Slot Icons
The location of the current picture is shown by an icon at the bottom left corner of the playback display.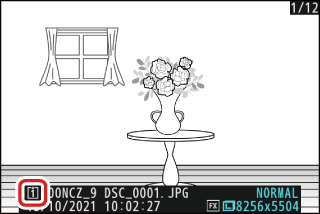 ---