New "Full Format" Option for CFexpress Memory Cards
New "Full Format" Option for CFexpress Memory Cards
You now have the option of performing a full format on compatible CFexpress memory cards using [Format memory card] in the setup menu (Format Memory Card).
Performing a full format deletes data from all areas of the card. Perform a full format to ensure that all data are deleted or if you notice a drop in the speed at which data are read from or written to the card.
Performing a Full Format
Selecting a slot containing a compatible memory card for formatting using [Format memory card] in the setup menu displays a dialog prompting you to choose a format type.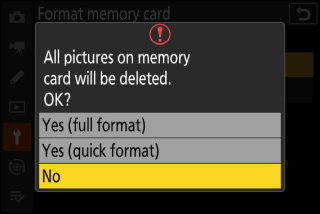 Select [Yes (full format)] and then choose [Yes] when prompted to fully format the CFexpress memory card.

To format the card using the existing format method, select [Yes (quick format)].

You will also be presented with full and quick format options after pressing the O (Q) and S (Q) buttons for two seconds.
Cautions: Full Format
A full format takes longer than a quick format.

Do not turn the camera off or remove the CFexpress memory card until the message [Formatting memory card.] clears from the display.
"Quick Format" Versus "Full Format"
A quick format overwrites only the file system information, leaving the actual file data intact. In contrast, performing a full format on a CFexpress memory card deletes all data. We recommend fully-formatting CFexpress memory cards prior to transfer of ownership or disposal.
---