New Display Option for Center-Weighted Metering
New Display Option for Center-Weighted Metering
[Center-weighted area] has been added to the shooting display options available via Custom Settings d18 [Custom monitor shooting display] and d19 [Custom viewfinder shooting display].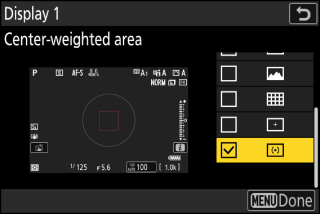 Enabling (M) this option adds an 8 or 12 mm circle to the center of the shooting display whenever [Center-weighted metering] is selected for [Metering] in the photo shooting menu.

The size of the circle varies with the option selected for Custom Setting b5 [Center-weighted area]. The circle is not displayed when [Average] is selected.
---