The Live View Display
The Live View Display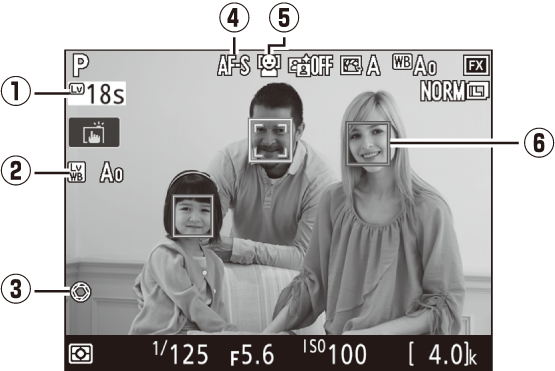 Time remaining

The amount of time remaining before live view ends automatically. Displayed if shooting will end in 30 s or less.

Photo live view display white balance indicator

Monitor hue (photo live view display white balance). Can be adjusted using Photo live view display WB in the

i

-button menu (

0

Using the

i

Button).

Maximum aperture indicator

Displayed when the Pv button is pressed to select maximum aperture (

0

Previewing Focus During Live View).

Autofocus mode

The current autofocus mode (

0

Choosing a Focus Mode).

AF-area mode

The current AF-area mode (

0

Choosing an AF-Area Mode).

Focus point

The current focus point. The display varies with the option selected for AF-area mode.
The Count Down Display
A count down will be displayed 30 s before live view ends automatically (the timer turns red if live view is about to end to protect the internal circuits or, if an option other than No limit is selected for Custom Setting c4—Monitor off delay > Live view; 0 Monitor off Delay—5 s before the monitor is due to turn off automatically). Depending on shooting conditions, the timer may appear immediately when live view is selected.
The Information Display
To hide or display indicators in the monitor, press the R button. The histogram is only displayed in the exposure preview (0 Exposure Preview) or when On (Mode 2) is selected for Silent live view photography (0 Silent Live View Photography). The virtual horizon and histogram displays are not available with the negative digitizer.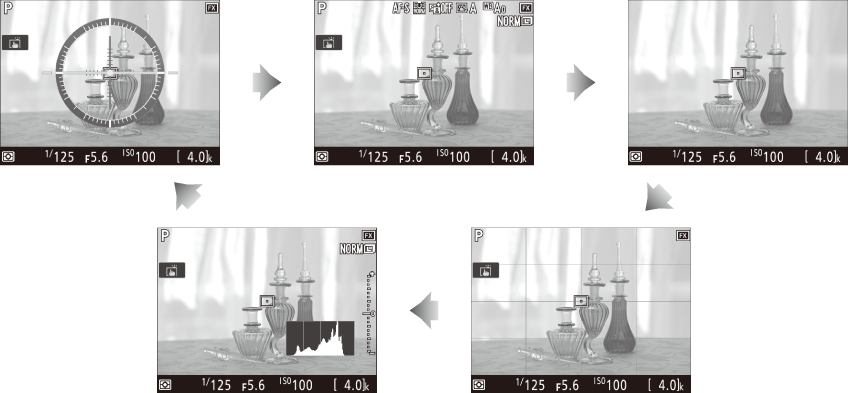 ---