Viewing Images
Viewing Images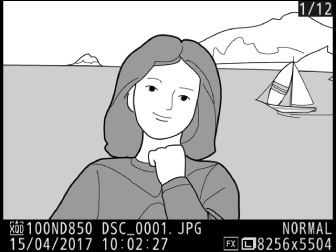 Full-Frame Playback
To play photographs back, press the K button. The most recent photograph will be displayed in the monitor. Additional pictures can be displayed by flicking left or right or pressing 4 or 2; to view additional information on the current photograph, press 1 or 3 (0 Photo Information).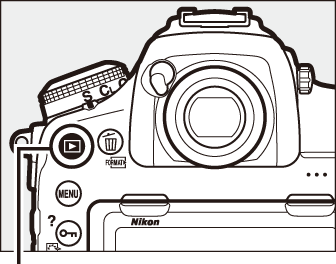 Thumbnail Playback
To view multiple images, press the W (M) button when a picture is displayed full frame. The number of images displayed increases from 4 to 9 to 72 each time the W (M) button is pressed, and decreases with each press of the X button. Slide a finger over the touch screen to scroll up or down or use the multi selector to highlight images.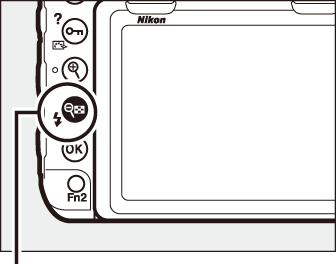 Playback Controls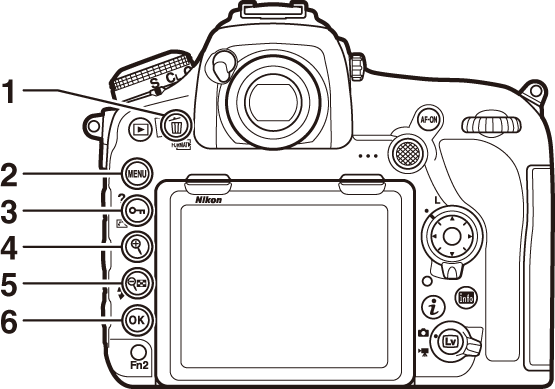 1

O

(

Q

): Delete the current picture
2

G

: View the menus
3

L

(

Z

/

Q

): Protect the current picture
4

X

: Zoom in
5

W

(

M

): View multiple images
6

J

: Use in combination with the multi selector as described below
Using the
J

Button with the Multi Selector
Display slot/folder selection dialog. To choose card and folder from which pictures are played back, highlight slot and press

2

to display list of folders, then highlight folder and press

J

.

Create retouched copy of current photograph (

0

N

The Retouch Menu: Creating Retouched Copies).

Upload photographs over a wireless or Ethernet network when a WT-7 is attached to the camera (

0

Other Accessories).
Two Memory Cards
If two memory cards are inserted, you can select a memory card for playback by pressing the W (M) button when 72 thumbnails are displayed.
Rotate Tall
To display "tall" (portrait-orientation) photographs in tall orientation, select On for the Rotate tall option in the playback menu (0 Rotate Tall).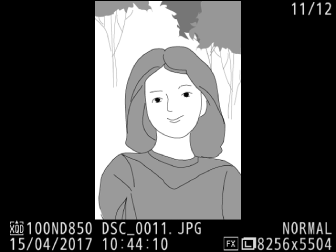 Image Review
When On is selected for Image review in the playback menu (0 Image Review), photographs are automatically displayed in the monitor after shooting (because the camera is already in the correct orientation, images are not rotated automatically during image review). In continuous release mode, display begins when shooting ends, with the first photograph in the current series displayed.
See Also
For information on:
Choosing how long the monitor will remain on when no operations are performed, see

A

> Custom Setting c4 (Monitor off delay,

0

Monitor off Delay).
Choosing the role played by the center of the multi selector, see

A

> Custom Setting f2 (Multi selector center button,

0

Multi Selector Center Button).
Using the command dials for image or menu navigation, see

A

> Custom Setting f4 (Customize command dials) > Menus and playback (

0

Customize Command Dials).
Using the Touch Screen
During playback, the touch-sensitive monitor can be used to:
---
View other images
Flick left or right to view other images.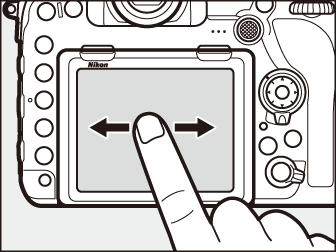 ---
Scroll rapidly to other images
In full frame view, you can touch the bottom of the display to display a frame advance bar, then slide your finger left or right to scroll rapidly to other images.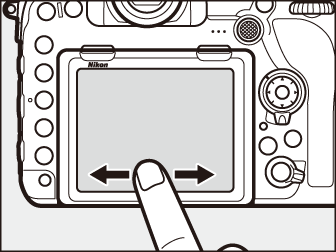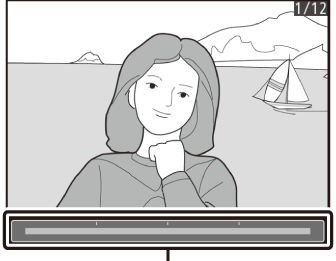 ---
Zoom in (photos only)
Use stretch and pinch gestures to zoom in and out and slide to scroll (0 Taking a Closer Look: Playback Zoom). You can also give the display two quick taps to zoom in from full-frame playback or cancel zoom.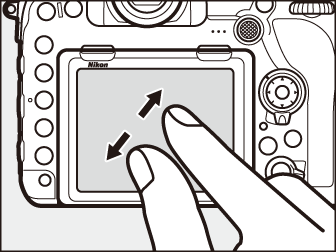 ---
View thumbnails
To "zoom out" to a thumbnail view (0 Thumbnail Playback), use a pinch gesture in full-frame playback. Use pinch and stretch to choose the number of images displayed from 4, 9, and 72 frames.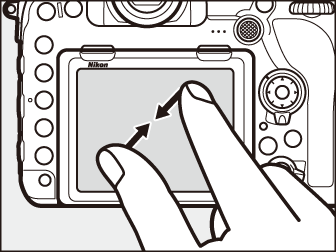 ---
View movies
Tap the on-screen guide to start movie playback (movies are indicated by a 1 icon). Tap the display to pause or resume, or tap Z to exit to full-frame playback (note that some of the icons in the movie playback display do not respond to touch-screen operations).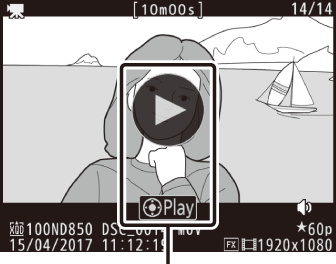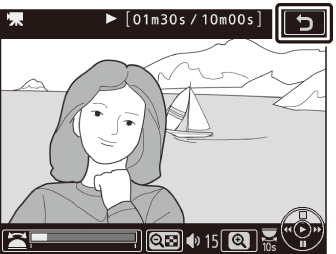 The
i

Button

Pressing the i button during full-frame or thumbnail playback displays the options listed below. Select options using the touch screen or the multi selector and J button.
Rating: Rate the current picture (

0

Rating Pictures).
Select to send to smart device/deselect (photographs only): Select photos for upload to a smart device.
Retouch (photographs only): Use the options in the retouch menu (

0

N

The Retouch Menu: Creating Retouched Copies) to create a retouched copy of the current photograph.
Volume control (movies only): Adjust playback volume for movies.
Trim movie (movies only): Trim unwanted footage from movies (

0

Editing Movies). Movies can also be edited by pressing the

i

button when movie playback is paused.
Choose slot and folder: Choose a folder for playback. Highlight a slot and press

2

to list the folders on the selected card, then highlight a folder and press

J

to view the pictures in the highlighted folder.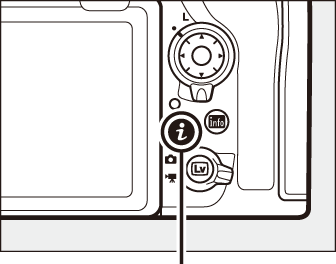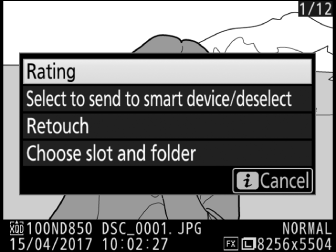 To exit the i-button menu and return to playback, press the i button again.
---