Focus Shift Photography
Focus Shift Photography
During focus shift, the camera automatically varies focus over a series of photographs. This feature can be used to take photos that can later be copied to a computer and combined using third-party focus-stacking software.
Before Shooting
Use an AF-S or AF-P lens. After mounting the appropriate lens, rotate the focus mode selector to AF and choose a release mode other than E. For best results, we recommend that you choose an exposure mode of A or M so that aperture does not change during shooting, stop aperture down two or three stops from the maximum, and disable auto ISO sensitivity control so that ISO sensitivity does not change while shooting is in progress. After adjusting settings, take a test shot and view the results in the monitor. Once settings have been adjusted to your satisfaction, close the viewfinder eyepiece shutter to prevent light entering via the viewfinder interfering with photographs and exposure.
We recommend using a tripod and disabling lens vibration reduction (VR). Mount the camera on a tripod before shooting begins. To ensure that shooting is not interrupted, be sure the camera battery is fully charged. If in doubt, charge the battery before use or use an AC adapter and power connector (available separately).
Focus Shift Photography
Select Focus shift shooting.

Highlight Focus shift shooting in the photo shooting menu and press 2 to display focus shift options.

Adjust focus shift settings.

Adjust focus shift settings as described below.

To choose the number of shots:

We recommend taking more shots than you think you'll need and winnowing them down during focus stacking. More than 100 shots may be required for photographs of insects or other small objects, while only a few are needed to photograph a landscape from front to back with a wide-angle lens.

To choose the amount the focus distance changes with each shot:

A value of 5 or less is recommended, as higher settings increase the risk that some areas will be out of focus when the shots are stacked. Try experimenting with different settings before shooting.

Close-ups

Because depth of focus is reduced at short focus distances, we recommend choosing smaller focus steps and increasing the number of shots when photographing subjects close to the camera.

To choose the interval between shots:

Select 00 to take photos at approximately 5 fps (release modes S, Cl, Ch, and Mup) or 3 fps (release modes Q and Qc). A setting of 00 is recommended when shooting without a flash; to ensure the correct exposure when using a flash, choose an interval long enough for the flash to charge.

To enable or disable exposure smoothing:

Selecting On allows the camera to adjust exposure to match previous shot in modes other than M (note that exposure smoothing only takes effect in mode M if auto ISO sensitivity control is on). Large changes in subject brightness during shooting may result in apparent variations in exposure, in which case it may be necessary to shorten the interval between shots. Off is recommended if lighting and other conditions will not change during shooting, On when photographing landscapes and the like under variable lighting.

To enable or disable silent photography:

Select On to silence the shutter during shooting.

Choose start folder options:

Select New folder to create a new folder for each new sequence, Reset file numbering to reset file numbering to 0001 whenever a new folder is created.

Start shooting.

Highlight Start and press J. Shooting starts after about 3 s. The camera takes photographs at the selected interval, starting at the focus distance selected at the start of shooting and progressing out toward infinity by the selected focus step distance with each shot. Shooting ends when the selected number of shots has been taken or focus reaches infinity. To end shooting before all shots have been taken, select Off for Focus shift shooting in the photo shooting menu or press the shutter-release button halfway or press the J button between shots.
During Shooting
During focus shift photography, the Q icon will flash in the control panel. Immediately before the next shot, the shutter speed display will show the number of shots remaining. Regardless of the option selected for Custom Setting c2 (Standby timer, 0 Standby Timer), the standby timer will not expire during shooting.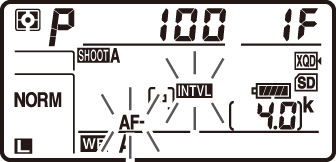 Settings can be adjusted, the menus used, and pictures played back while focus shift photography is in progress. The monitor will turn off automatically about four seconds before each shot. Note that changing camera settings while focus shift photography is in progress may cause shooting to end.
Focus Shift Photography
If you are using a flash, choose an interval longer than the time needed for the flash to charge. If the interval is too short, the flash may fire at less than the power needed for full exposure. Focus shift is available only when an AF-S or AF-P lens is attached and cannot be used when the camera clock is not set or a memory card is not inserted. It cannot be combined with some camera features, including live view (0 Live View Photography), movie recording (0 Recording Movies), time-lapse movies, bracketing, the self-timer (0 Self-Timer Mode (E)), long time-exposures (bulb or time photography; 0 Long Time-Exposures (M Mode Only)), HDR (high dynamic range), multiple exposure, and interval timer photography. Note that because the shutter speed and time needed to record images may vary from one shot to the next, the time between the end of one interval and the beginning of the next may vary. If shooting cannot proceed at current settings (for example, if shutter speed is set to A or %), a warning will be displayed in the monitor.
Silent Photography
Selecting On for Silent photography disables some camera features, including:
---