D850 Online Manual
D850 Online Manual
Return to the index of Nikon online documentation
Search for other product manuals
Download Center
Keyword Search
Enter keywords, not sentences.
Symbols and Conventions
To make it easier to find the information you need, the following symbols and conventions are used:
| | |
| --- | --- |
| D | This icon marks cautions; information that should be read before use to prevent damage to the camera. |
| A | This icon marks notes; information that should be read before using the camera. |
| 0 | This icon marks references to other sections in this manual. |
| | This icon marks links to web pages where you can view Digitutor video tutorials on related topics. |
Menu items, options, and messages displayed in the camera monitor are shown in bold.
Throughout this manual, smartphones and tablets are referred to as "smart devices".
Camera Settings
The explanations in this manual assume that default settings are used.
Table of Contents
Introduction
First Steps
Tutorial
Live View Photography
Movies
Image Recording Options
Focus
Release Mode
ISO Sensitivity
Exposure
White Balance
Image Enhancement
Using Shoe-Mounted Flash Units
Optional Flash Units
Other Shooting Options
More About Playback
Menu Guide
Technical Notes
---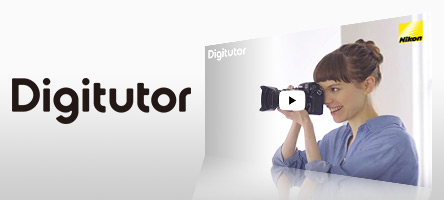 An easy-to-understand resource featuring video tutorials, sample images, and other materials introducing how to configure and use the D850 for taking beautiful pictures.
---