Taking a Closer Look: Playback Zoom
Taking a Closer Look: Playback Zoom
To zoom in on an image displayed in full-frame playback, press the X button or the center of the multi selector or give the display two quick taps. The following operations can be performed while zoom is in effect: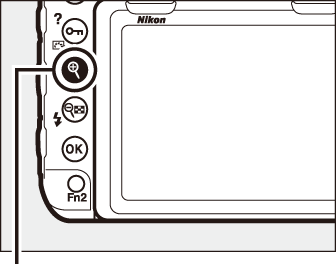 Zoom in or out/view other areas of image

Press X or use stretch gestures to zoom in to maximum of approximately 32× (large images in FX/36 × 24 format), 24× (medium images) or 16× (small images). Press W (M) or use pinch gestures to zoom out. While photo is zoomed in, use multi selector or slide finger over screen to view areas of image not visible in monitor. Keep multi selector pressed to scroll rapidly to other areas of frame. Navigation window is displayed when zoom ratio is altered; area currently visible in monitor is indicated by yellow border. Bar under navigation window shows zoom ratio, turning green at 1 : 1.

Crop image

To create crop image to area currently visible in monitor, press

i

, highlight Quick crop and press

J

. Note that Quick crop is not available when RGB histogram is displayed (

0

Playback Zoom).

Select faces

Faces detected during zoom are indicated by white borders in navigation window. Rotate sub-command dial or tap on-screen guide to view other faces.

View other images

Rotate main command dial or tap

e

or

f

icons at bottom of display to view same location in other photos at current zoom ratio. Playback zoom is cancelled when a movie is displayed.

Change protect status

Press

L

(

Z

/

Q

) to protect or remove protection from images (

0

Protecting Photographs from Deletion).

Return to shooting mode

Press the shutter-release button halfway or press the

K

button to exit to shooting mode.

Display menus

Press

G

to view the menus (

0

Menu Guide).
---