Flash Info for Remote Units
Flash Info for Remote Units
The camera can display flash info for a SB-5000 or SB-500 flash unit mounted on the camera accessory shoe and configured as a master flash for optical AWL, as well as for remote flash units controlled via radio AWL using a WR-R10. To view flash info during viewfinder photography, press the R button to activate the information display (The Information Display) and then press the R button again.
Flash Control Mode Displays
Group Flash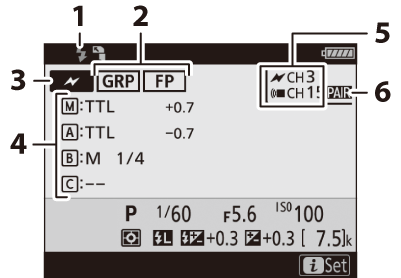 Quick Wireless Control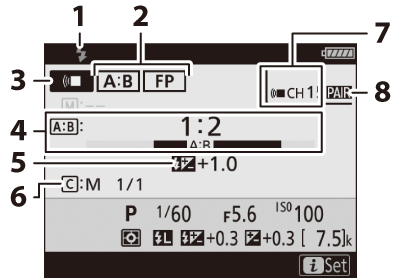 Remote Repeating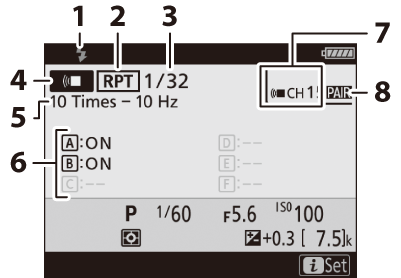 Displayed in radio AWL when all flash units are ready.

Optical AWL is indicated by Y, radio AWL by Z, joint optical and radio AWL by both icons together. Optical AWL channel for joint optical and radio AWL is displayed only when SB-500 is used as master flash.

Icons are displayed for each group only when joint optical and radio AWL is used.

Displayed only when radio AWL or joint optical and radio AWL is used.
Flash Info and Camera Settings
The flash information display shows select camera settings, including exposure mode, shutter speed, aperture, and ISO sensitivity.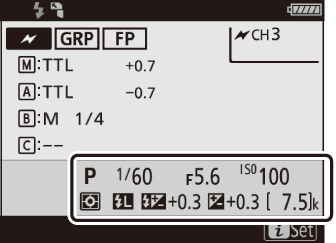 Flash settings can be changed by pressing the i button in the flash info display. The options available vary with the flash unit and the settings selected. You can also test-fire the flash.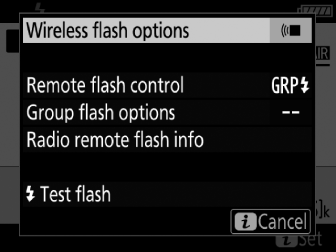 ---