Download Center

The Pv Button
To stop the lens down to the selected aperture and preview depth of field during shooting, press and hold the Pv button.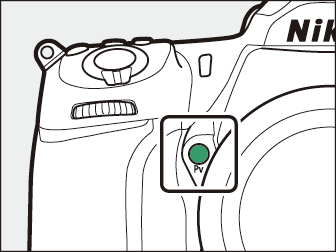 Optional flash units compatible with the Nikon Creative Lighting System (CLS) will emit a modeling flash. The modeling flash can be disabled by selecting [Off] for Custom Setting e5 [Modeling flash].

You can choose the role assigned to the Pv button. Use Custom Settings f3 [Custom controls] and g2 [Custom controls] in the Custom Settings menu to choose the roles played by the button during photography and movie recording, respectively.
The Pv Button
The Pv button may be disabled in some shooting modes or when certain conditions apply.
---