Download Center
Optical/Radio AWL
Optical/Radio AWL
Optical and radio AWL can be used together. Radio flash control is provided by a WR-R10 connected to the camera, optical control by an SU‑800 wireless Speedlight commander or an SB‑910, SB‑900, SB‑800, SB‑700, or SB‑500 flash unit mounted on the camera accessory shoe.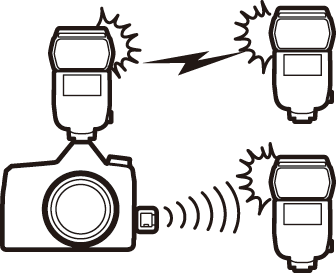 Before proceeding, establish a wireless connection between the radio-controlled flash units and the WR-R10 (Establishing a Wireless Connection).

If an SB‑500 is mounted on the camera accessory shoe, select [Optical/radio AWL] for [Flash control] > [Wireless flash options] in the photo shooting menu; with other flash units or the SU‑800, this option is selected automatically.

The only option available for [Remote flash control] will be [Group flash].

Choose a group (A–F) for each of the remote flash units. Place optically-controlled flash units in groups A through C and radio-controlled units in groups D through F (to display options for groups D through F, press 1 or 3 in the [Group flash options] display).
---