Download Center

g3: AF Speed
Choose the focus speed for movie recording when using lenses compatible with this option.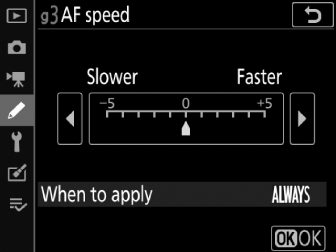 Use [When to apply] to choose when the selected option applies.
Option

Description

D

[Always]

The selected option applies whenever the live view selector is rotated to 1.

E

[Only while recording]

The selected option applies only when recording is in progress. At other times, the focus speed is "+5", or in other words as fast possible.
Compatible Lenses
The value selected for [AF speed] applies only to AF-P lenses and the lenses listed below. All other lenses focus at maximum speed.
AF-S Fisheye NIKKOR 8–15mm f/3.5–4.5E ED

AF-S DX NIKKOR 16–80mm f/2.8–4E ED VR

AF-S DX NIKKOR 18–55mm f/3.5–5.6G VR II

AF-S DX NIKKOR 18–140mm f/3.5–5.6G ED VR

AF-S DX NIKKOR 18–300mm f/3.5–6.3G ED VR

AF-S NIKKOR 20mm f/1.8G ED

AF-S NIKKOR 24mm f/1.8G ED

AF-S NIKKOR 24–70mm f/2.8E ED VR

AF-S NIKKOR 28mm f/1.4E ED

AF-S NIKKOR 35mm f/1.8G ED

AF-S DX NIKKOR 55–200mm f/4–5.6G ED VR II

AF-S NIKKOR 58mm f/1.4G

AF-S NIKKOR 70–200mm f/2.8E FL ED VR

AF-S NIKKOR 105mm f/1.4E ED

AF-S NIKKOR 120–300mm f/2.8E FL ED SR VR

AF-S NIKKOR 180–400mm f/4E TC1.4 FL ED VR

AF-S NIKKOR 200–500mm f/5.6E ED VR

AF-S NIKKOR 300mm f/4E PF ED VR

AF-S NIKKOR 400mm f/2.8E FL ED VR

AF-S NIKKOR 500mm f/4E FL ED VR

AF-S NIKKOR 500mm f/5.6E PF ED VR

AF-S NIKKOR 600mm f/4E FL ED VR
---