The

R

Button (Viewfinder Photography)
The
R

Button (Viewfinder Photography)
During viewfinder photography, you can press the R button to view an information display in the monitor listing such data as shutter speed, aperture, number of exposures remaining, and AF-area mode.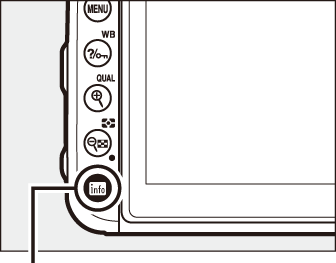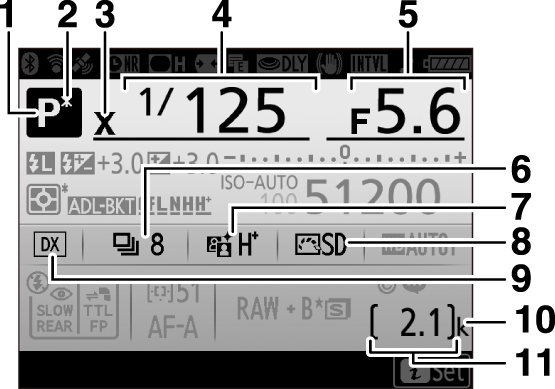 1
Shooting mode
2
Flexible program indicator
3
Flash sync indicator
4
Shutter speed
5
Aperture (f-number)
6

Release mode

Continuous shooting speed
7
Active D-Lighting indicator
8
Picture Control indicator
9
Image area indicator
10
"k" (appears when memory remains for over 1000 exposures)
11

Number of exposures remaining

Time-lapse recording indicator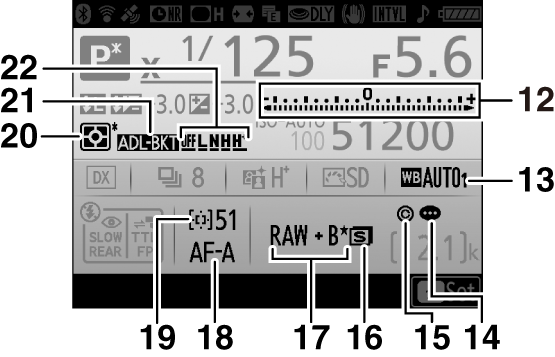 12

Exposure indicator

Exposure compensation display

Bracketing progress indicator

Exposure and flash bracketing

WB bracketing

13

White balance

White balance fine-tuning indicator

14
Image comment indicator
15
Copyright information
16
Image size
17
Image quality
18
Autofocus mode
19
AF-area mode indicator
20
Metering
21

Exposure and flash bracketing indicator

WB bracketing indicator

ADL bracketing indicator

HDR indicator

22

ADL bracketing amount

HDR strength

Multiple exposure indicator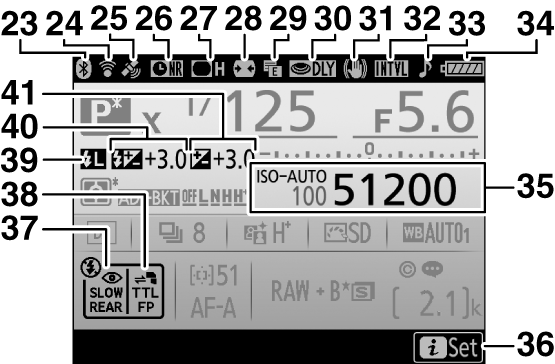 23

Bluetooth connection indicator

Airplane mode

24

Wi-Fi connection indicator

Eye-Fi connection indicator

25
Satellite signal indicator
26
Long exposure noise reduction indicator
27
Vignette control indicator
28
Auto distortion control
29
Electronic front-curtain shutter
30
Exposure delay mode
31
Vibration reduction indicator
32

Interval timer indicator

Time-lapse indicator

"Clock not set" indicator
33
"Beep" indicator
34
Battery indicator
35

ISO sensitivity indicator

ISO sensitivity

Auto ISO sensitivity indicator

36

i

icon
37
Flash mode
38
Flash control indicator
39
FV lock indicator
40

Flash compensation indicator

Flash compensation value

41

Exposure compensation indicator

Exposure compensation value
Note: Display shown with all indicators lit for illustrative purposes.
Turning the Monitor Off
To clear shooting or flash information from the monitor, press the R button again or press the shutter-release button halfway. The monitor will turn off automatically if no operations are performed for about 4 seconds. The monitor will also turn off if you cover the eye sensor or look through the viewfinder. For information on choosing how long the monitor remains on before turning off automatically, see Custom Setting c4 (Monitor off delay, 0 Monitor off Delay).
See Also
For information on changing the color of the lettering in the information display, see B > Information display (0 Information Display).
The Y ("Clock Not Set") Icon
The camera clock is powered by an independent, rechargeable power source, which is charged as necessary when the main battery is installed or the camera is powered by an optional power connector and AC adapter (0 Other Accessories). Two days of charging will power the clock for about three months. If a Y icon flashes in the information display, the clock has been reset and the date and time recorded with new photographs will not be correct. Use the Time zone and date > Date and time option in the setup menu to set the clock to the correct time and date (0 Time Zone and Date).