f2: Customize

i

Menu (Lv)
Choose the items listed in the i menu displayed when the i button is pressed during live view. For information on customizing the i menu, see "Customizing the i Menu: Customize i Menu" ( Customizing the i Menus: Customize i Menu ).
Photo Live View Display WB
In live view, white balance for the monitor (monitor hue) can be set separately from the white balance for photography (photographic white balance). Hues in the monitor may differ from those in pictures taken with an option such as [Flash] or [Preset manual] selected for photographic white balance. Matching monitor hue to photographic white balance gives you a more accurate preview of how pictures will turn out.
| Option | Description |
| --- | --- |
| [None] | Monitor hue matches photographic white balance. |
| [Auto] | The monitor uses [Keep white (reduce warm colors)] white balance. |
| [Choose color temperature] | Choose a color temperature for the monitor display. |
Monitor white balance is reset when the camera is turned off.
Split-Screen Display Zoom
Display two areas, aligned horizontally but in different parts of the frame, side-by-side at a high zoom ratio. This makes it easier to level photographs of buildings or other wide objects. Selecting this option splits the display into two boxes arranged side-by-side showing the two areas at a high zoom ratio (split-screen display zoom). The boxes display magnified views of the areas indicated by the frames (r) in the navigation window.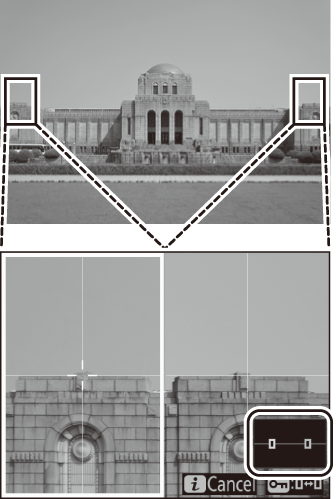 Use the X and W (M) buttons to zoom in and out.

Press 4 or 2 to scroll the selected area left or right. Use the g (h/Q) button to select a box.

Press 1 or 3 to scroll both areas up or down simultaneously.

To focus on the subject at the center of the selected area, press the shutter-release button halfway.

To exit split-screen display zoom, press the i button.

---