Eye-Fi Upload
This option is displayed only when an Eye-Fi memory card (available separately from third-party suppliers) is inserted in the camera. Choose Enable to upload photographs to a preselected destination. Note that pictures will not be uploaded if signal strength is insufficient. Before uploading pictures via Eye-Fi, select Disable for Airplane mode (0 Airplane Mode) and Bluetooth > Network connection (0 Bluetooth).
Observe all local laws concerning wireless devices and choose Disable where wireless devices are prohibited.
Eye-Fi Cards
Eye-Fi cards may emit wireless signals when Disable is selected. A g icon displayed when Disable is selected indicates that the camera is unable to control the Eye-Fi card (0 g: Error); turn the camera off and remove the card.
Select longer values for Custom Setting c2 (Standby timer, 0 c2: Standby Timer) when using an Eye-Fi card.
See the manual provided with the Eye-Fi card, and direct any inquiries to the manufacturer. The camera can be used to turn Eye-Fi cards on and off, but may not support other Eye-Fi functions.
Airplane Mode (0 Airplane Mode)
Enabling airplane mode disables Eye-Fi upload. To resume Eye-Fi upload, select Disable for Airplane mode before selecting Enable for Eye-Fi upload.
When an Eye-Fi card is inserted, its status is indicated by an icon in the information display:
d

: Eye-Fi upload disabled.

e

: Eye-Fi upload enabled but no pictures available for upload.

f

(static): Eye-Fi upload enabled; waiting to begin upload.

f

(animated): Eye-Fi upload enabled; uploading data.

g

: Error — camera can not control Eye-Fi card. If a flashing

W

appears in the control panel or viewfinder, check that the Eye-Fi card firmware is up-to-date; if the error persists after the card firmware has been updated, insert a different card or format the card in the camera after copying any pictures it contains to a computer or other storage device. If the

W

indicator is not flashing, pictures can be taken normally but you may be unable to change Eye-Fi settings.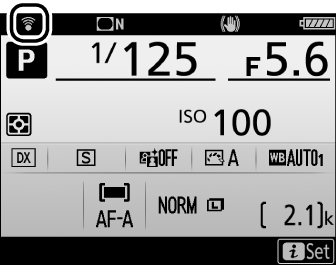 Supported Eye-Fi Cards
Some cards may not be available in some countries or regions; consult the manufacturer for more information. Eye-Fi cards are for use only in the country of purchase. Be sure the Eye-Fi card firmware has been updated to the latest version.