g1: Customize

i

Menu
Choose the items listed in the i menu displayed when the i button is pressed in video mode.
Highlight a position in the i menu, press J, and select the desired item.

The following items can be assigned to the i menu.
Option

0

n

[Shooting menu bank]

j

[Select custom settings bank]

J

[Choose image area]

G

[Frame size/frame rate]

N

[Destination]

E

[Exposure compensation]

9

[ISO sensitivity settings]

m

[White balance]

h

[Set Picture Control]

6

[HLG quality]

y

[Active D-Lighting]

w

[Metering]

s

[Focus mode]

7

[AF-area mode/subj. detection]

u

[Vibration reduction]

4

[Electronic VR]

H

[Microphone sensitivity]

5

[Attenuator]

6

[Frequency response]

7

[Wind noise reduction]

8

[Headphone volume]

L

[Silent mode]

w

[Custom controls]

W

[Focus peaking]

9

[Zebra pattern]

3

[Monitor/viewfinder brightness]

u

[Airplane mode]

8

[Multi-selector power aperture]

9

[Multi selector exposure comp.]

v

[Warm display colors]

9

[View video info]
Multi-Selector Power Aperture
Choose whether the multi selector can be used for power aperture. When [Enable] is selected, holding 1 widens the aperture. Holding 3 narrows the aperture.
Multi Selector Exposure Comp.
Choose whether the multi selector can be used to adjust exposure compensation. Selecting [Enable] allows exposure compensation to be set by pressing 1 or 3.
View Video Info
View video recording settings. This option can be used to view but not to change the option selected.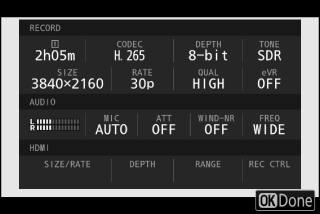 ---