f1: Customize

i

Menu
Choose the items listed in the i menu displayed when the i button is pressed in photo mode.
Highlight a position in the i menu, press J, and select the desired item.

The following items can be assigned to the i menu.
Option

0

n

[Shooting menu bank]

j

[Select custom settings bank]

J

[Choose image area]

8

[Image quality]

o

[Image size]

N

[View memory card info]

E

[Exposure compensation]

9

[ISO sensitivity settings]

m

[White balance]

h

[Set Picture Control]

p

[Color space]

y

[Active D-Lighting]

q

[Long exposure NR]

r

[High ISO NR]

w

[Metering]

c

[Flash mode]

Y

[Flash compensation]

q

[Wireless options/flash mode]

m

[Group flash options]

r

[Test flash]

s

[Flash info]

t

[Radio remote flash info]

s

[Focus mode]

7

[AF-area mode/subj. detection]

u

[Vibration reduction]

t

[Auto bracketing]

$

[Multiple exposure]

2

[HDR overlay]

7

[Interval timer shooting]

8

[Time-lapse video]

9

[Focus shift shooting]

F

[Focus tracking with lock-on]

L

[Silent mode]

Y

[C30/C120 options]

w

[Custom controls (shooting)]

m

[View mode (photo Lv)]

z

[Split-screen display zoom]

W

[Focus peaking]

3

[Monitor/viewfinder brightness]

u

[Airplane mode]

v

[Warm display colors]
View Memory Card Info
View the slot currently selected as the destination for new pictures and the options used to record pictures when two memory cards are inserted. This option can be used to view but not to change the option selected.
The options used to record pictures when two memory cards are inserted can be selected using [Role played by card in Slot 2] in the photo shooting menu.
Split-Screen Display Zoom
If [Split-screen display zoom] is assigned to the i menu, you can select [Split-screen display zoom] to simultaneously zoom in on two areas that are aligned horizontally but are in different parts of the frame (split-screen display zoom). The locations of the areas are indicated by the two frames (r) in the navigation window in the bottom right corner of the display.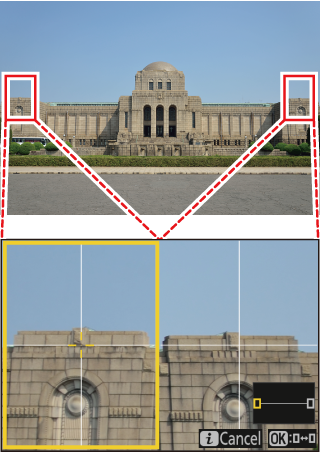 Zooming in simultaneously on two widely-separated but horizontally-aligned areas of the frame makes it easier to level pictures of buildings or other wide objects.

Use the X and W (Q) buttons to zoom in and out.

Press 4 or 2 to scroll the selected area left or right. Use the J button to switch between the two areas.

Press 1 or 3 to scroll both areas up or down simultaneously.

To focus on the subject at the center of the selected area, press the shutter-release button halfway.

To exit split-screen display zoom, press the i button.
---